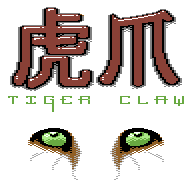 Four magic scrolls have been stolen by the three lords of evil. Help Tiger Claw on his path to retrieve the valuable scrolls before Fire Fist, Thunder Chain and Angry Tongue can reveal their full potential.
Fortunately, Master Lee transferred some of the scrolls' power into the four masks of endurance before the scrolls were taken. Find the masks and use them wisely.
As Confucius said: He that would perfect his work must first sharpen his tools.
---
More about "Tiger Claw" in the web:
GET IT NOW!

Amiga


The boxed version is available at the RGCD shop!

The Amiga CD also includes ADF/DMS versions, Windows/Mac/Linux builds, the OST and it's bootable on CD32 and CDTV.
requirements:
A500 with 1 MB
(or better)

---

PC

---

C64
tigerclaw12.zip (28k, Tiger Claw V1.2)
requirements: C64 or emulator